Adoption Lions
£20.00
In stock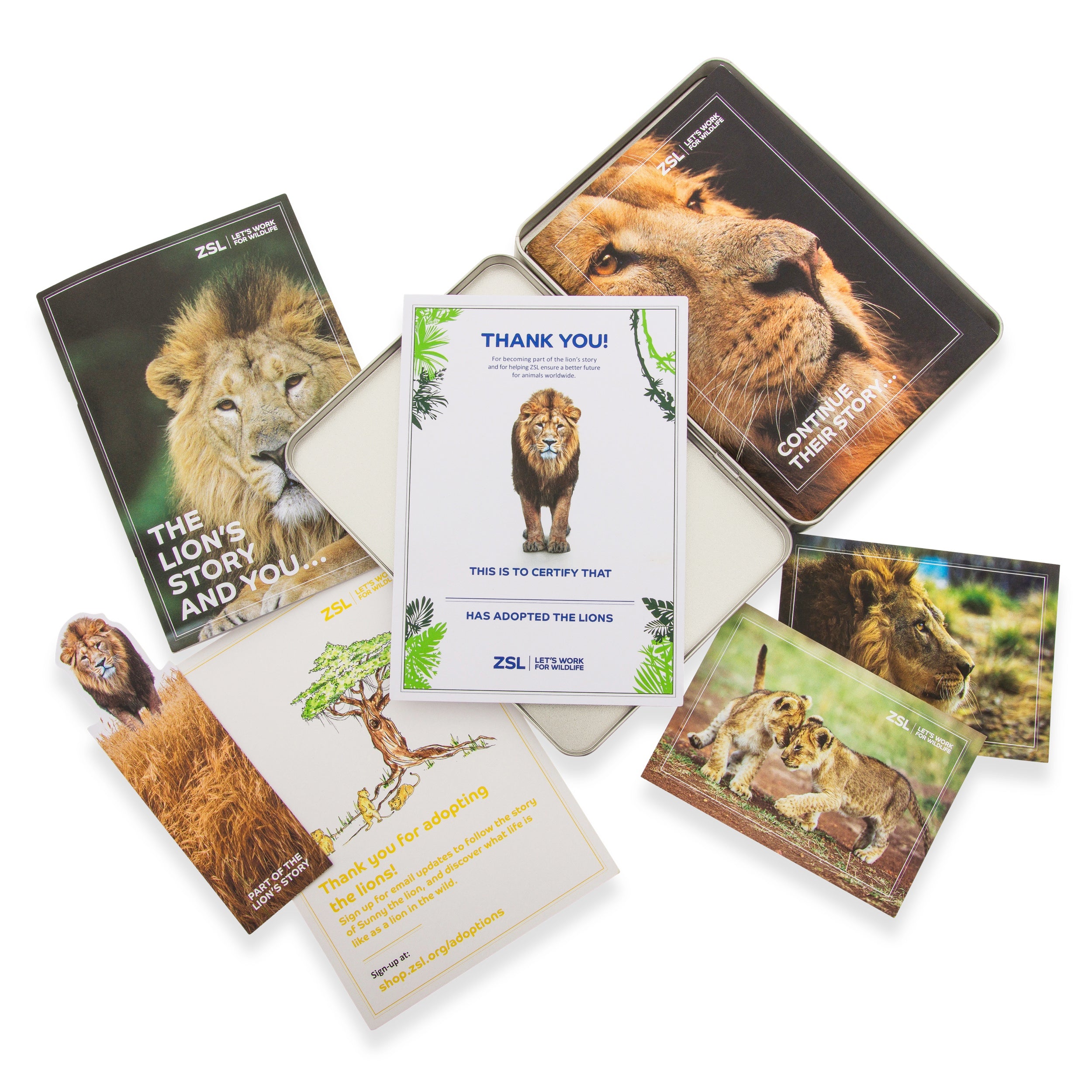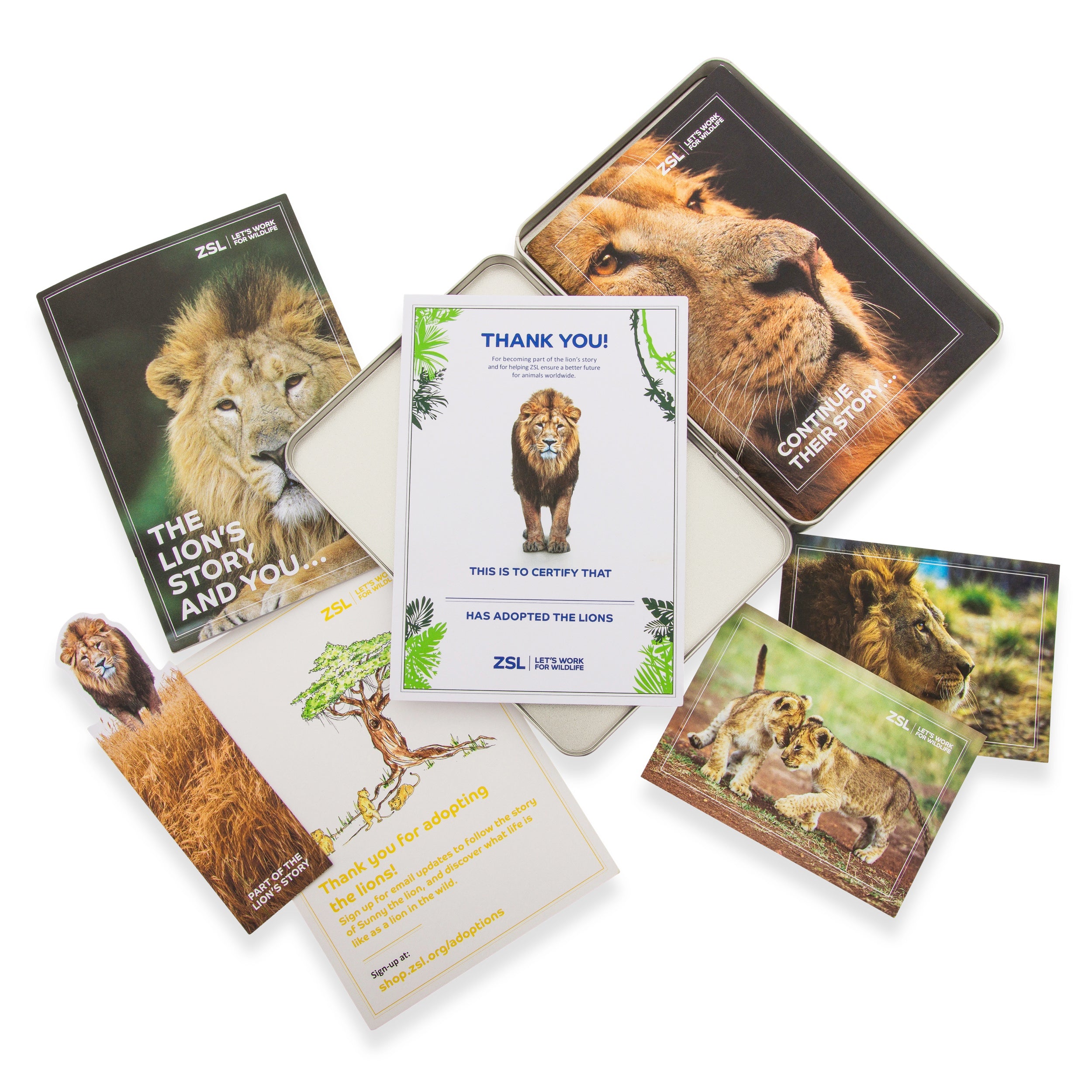 ---
Product details
Product body:
Adopt our Lions!

Your adoption supports the Lions in our care at London Zoo whilst also helping ZSL protect lions in the wild. It's a gift that gives back! For a limted time only, get any animal adoption and any £20 soft toy for only £35!
With this Lion Adoption you will receive:
A thoughtful lion adoption certificate with personalised name.
Enter the name below before adding to basket.
---
An informative ZSL gift adoption
tin pack all about lions.
A booklet, a lined notebook, two postcards and a bookmark!
---
Delightful quarterly email newsletter updates
for a year.
Follow the life and story of Sunny the Lion in the wild.
---
Upgrade for the ultimate gift!
Choose from a lion cuddly to Zoo gift tickets - Take a look below at the available options.


Last-minute gift? A copy of the adoption certificate is available as a download for you to give on the day before the full pack arrives!
---
MAKE YOUR ADOPTION EXTRA SPECIAL:
Who is the adoption for? Name to be included on certificate:
Adoption product:
Please note, only one of each adoption can be added. See our Adoptions FAQs.
Select the gifts to include in your adoption pack: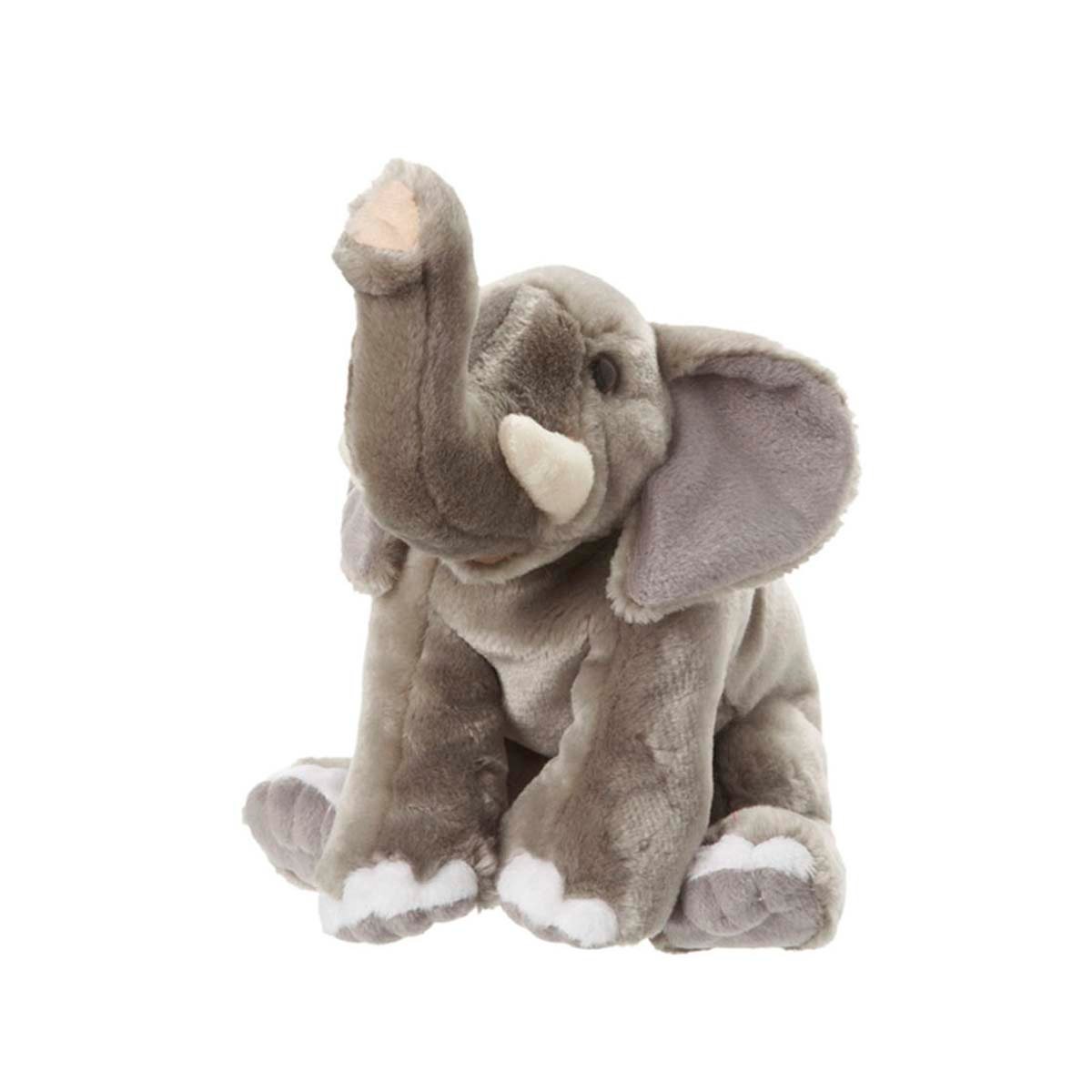 Elephant soft toy, 22cm
£20.00
Product body:
This cuddly elephant toy measures 22cm and is made from wonderfully soft, grey plush with white toes and tusks.
With soft brown eyes and upturned trunk (considered lucky), this elephant soft toy's sweet face means you can't help but want a cuddle!
Giraffe soft toy, 35cm
£20.00
Product body:
The giraffe is the tallest animal in the world and is characterised by it's long neck and beautiful coat patterns.
This adorable giraffe soft toy measures 35cm, and has a cute embroidered face with button eyes and a soft, patterned coat.
Tiger Soft Toy, 22cm
£20.00
Product body:
With a super soft coat and realistic full body features, this tiger toy is sure to bring joy, fun, and snuggles to any little animal lover's life.
Great for role play, cuddles, and much more. This animal soft toy is also a good size for travelling - easily fitting into children's backpacks.
Age Suitability: 3+ years
Measurements: 22cm
Zebra soft toy, 27cm
£20.00
Product body:
Zebra are instantly recognisable with their beautiful white and black striped coats. Each zebra has a different pattern of stripes which is unique to them!
This adorable zebra soft toy has an amazing cuddly coat of black and white stripes with black hooves and a fluffy mane and tail.
Measuring 27cm, this zebra is the perfect size to cuddle and love.
How is ZSL helping?
ZSL is working with partners in India, including the Wildlife Institute of India and Gujarat Forest Department to safeguard Asiatic lions.
Experts across ZSL have provided training, expertise and support to Asiatic lion conservation programmes in the Gir Forest. Vets from ZSL work with local vet teams to help them rescue and rehabilitate injured or trapped lions, share knowledge and are helping to get systems in place to manage any potential disease outbreak which could wipe out the remaining Gir lions.
How does an adoption help the lions?
By adopting the lions you are showing your love and support for this beautiful species. The adoption helps fund ZSL's conservation work in the Gir Forest and worldwide, as well as providing care for the Asiatic lions at ZSL London Zoo and the African lions at ZSL Whipsnade Zoo.
SHIPPING AND DELIVERY
Standard delivery (Brown Hare service) in the UK is £4.99
How long will it take? Check out our Shipping info page !
We think you'll also love